Visitor's Medicine
Traveling? Enjoy your vacation with peace of mind
Allergic Reactions
Sea Urchin Injuries
Jellyfish Stings
Tropical Skin Conditions (rashes)
Burns
Respiratory Illnesses
Cuts/Laceration Repair
Full Scope Family Medicine
Care for All Ages
Continuity of Care
Prescription Refills, Extensions, including Medical Cannabis
Lab Work
Health Surveillance
Treated thousands of patients of all ages with a wide range of conditions
Uptodate with the latest medical literature
Extensive experience of high-acuity ER coverage
Management of urgent issues in your home
Taking pride in the cosmesis of results
Call our clinic (623-1000) or Text/WhatsApp our Urgent Care Family Physician (+1 345) 324-2424
Visitor's Medicine Staff
Dr. David Kwinter, MD, CCFP(EM)
FAMILY MEDICINE AND URGENT CARE
My name is David and I just moved to Cayman with my wife and three boys. For the last 10 years I was a small town family doctor in Canada and I did nearly everything - from preventative medicine to performing minor surgical procedures to treating serious trauma, heart failure, cardiac arrests, arrhythmias, heart attacks, and strokes.

But just as important as my wide skill set, my patients appreciated that I stay up-to-date with advances in medicine, and they felt like I gave them their best advice, after previously struggling to resolve their issues elsewhere.

I have also done a lot of counseling; patients feel comfortable telling me their stories, safe in the confidentiality I provide, and they feel relief after my help.

My current areas of focused reading include medical cannabis, early screening to promote healthy longevity and function in our latter decades, and research regarding how continuity of care improves health outcomes.

Call our clinic (623-1000) or Text/WhatsApp Dr. Kwinter (+1 345) 324-2424 or contact us via our contact form.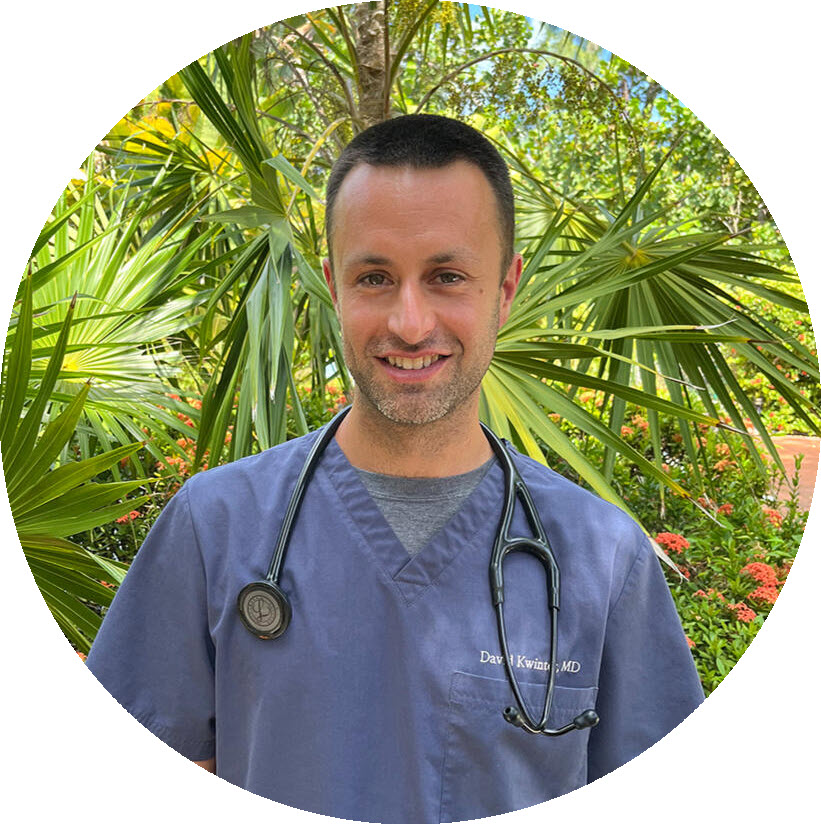 Clinical Chief of Primary Care and Concierge Medicine.
Request more info