Concierge Medical Services Program Benefits
When you enroll in our Concierge Medical Services program, your membership will entitle you to the following benefits, services and priority access:
Membership in an exclusive limited group of Grand Cayman residents that have instant access to Dr. Kwinter, Clinical Chief of Concierge Medicine and Primary Care, Cayman Medical Ltd.
24/7 phone and text access to Dr. Kwinter - day or night
Prompt service assurance
Priority house calls - same day with target response times under 1 hour for urgent needs
Unlimited priority clinic access and short notice appointments as requested to accommodate your schedule
Priority special procedures (same day or next day)
Private luxury waiting rooms in our clinic and highly personalized service
Expedited diagnostic services
Referral coordination and management
Priority access to ancillary in-clinic services (e.g. physiotherapy, chiropractic, orthopedics, aquatherapy, pain management, mental health counselling, Ultrasound, MRI)
26 house calls per annum and this can be utilized by all family members
Has treated thousands of patients of all ages with a wide range of problems
Keeps up with the latest literature regarding preventative medicine, chronic disease management and the most current drug studies
Experience includes years of high-acuity single-physician coverage ER experience and can therefore manage many urgent issues in your home
Takes great pride in the cosmesis of results in his regularly scheduled special procedures clinics
Dr. Kwinter will work with you on your health priorities using shared decision-making at every step
Physician-led proactive wellness coaching by your preferred method - text, call, clinic visit, house call
To ensure the highest standards of service and an uncompromised patient experience, enrollment in the Concierge Medical Services program will be limited to 100 patients
Our Executive Medical Examination
Maintaining a healthy lifestyle goes a long way in preventing many medical problems. However, primary prevention, the early detection and correction of deleterious conditions that have negative outcomes if undetected in their preclinical stage is also essential to optimal health. Around the world, medical societies, specialty associations and health authorities issue guidelines suggesting screening regimens to identify such conditions before they cause symptoms. Many factors including disease epidemiology, test parameters, cost, and availability of effective interventions affect screening recommendations. Dr. Kwinter keeps up to date with the latest evidence behind these guidelines and by enrolling in our Concierge Medicine program, you will receive effective screening on a regular basis to maximize your health. Below is a list of elements of our executive medical examination, which are typically covered by insurance.












An Integrated Specialist Team for Optimal Patient Experience
Concierge Medicine Staff
Dr. David Kwinter, MD, CCFP(EM)
CONCIERGE MEDICINE AND PRIMARY CARE
I am delighted to introduce myself as a dedicated family physician and the new Clinical Chief of Concierge Medicine at Cayman Medical. Concierge Medicine flips the paradigm of primary care by focusing foremost on the patient's experience and outcomes. By offering a premium service to a select group of patients, service quality can be maintained indefinitely at a truly exceptional level.

Our Concierge Medicine service is a specialized form of family medicine in which patients benefit from increased availability and personalization of care. It encompasses the full scope of family medicine, including primary preventative care, chronic disease management, health coaching and minor surgical procedures. Unique aspects of our service include thorough executive medicals in place of routine screening and at-home management of many urgent care issues. Our exclusivity and focus on the patient's experience translate into immediate access and ample time with the physician, house calls on-demand, high-quality care, and ultimately, peace of mind.

My educational background includes degrees from the esteemed University of Kentucky College of Medicine and Memorial University's Department of Family Medicine. Having completed my training and certification in both family medicine and emergency medicine, I ran my own family practice in Canada while simultaneously working ER shifts, OR assisting, running a hospital-based special procedures clinic, and caring for the residents of a local retirement home. With over 8,000 hours of high-volume, high-acuity emergency room experience, I am adept at managing complex medical workups as well as minor surgical special procedures. Having run a solo private practice of over 1,000 patients for nearly a decade I gained experience in managing nearly all common chronic diseases and many uncommon and rare diseases as well.

Cayman Medical's new Concierge Medicine program is a fantastic opportunity to bring this specialized form of family medicine to a select group of residents of Grand Cayman. By enrolling in this program, patients can expect outstanding care and unparalleled service from their dedicated physician as well as priority access to the full spectrum of specialists at the Cayman Medical Center.

Dr. Kwinter would be very pleased to assist you with any pain related problems you may be suffering from.

To enroll in our Concierge Medical Services program or request more info please call 623-1000 or contact us via our contact form.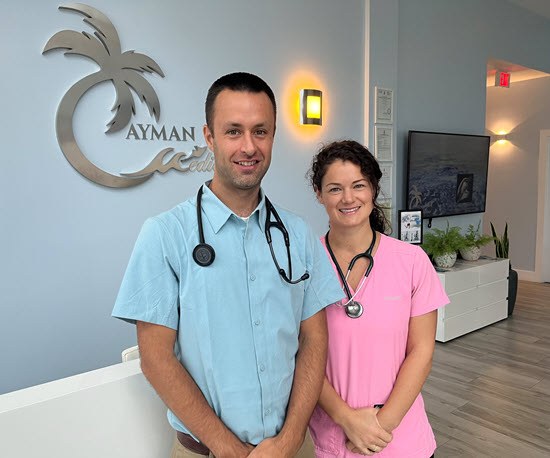 Dr. Kwinter: Clinical Chief of Concierge Medicine and Primary Care
Nurse Candice: Head Nurse of Concierge Medicine and Primary Care
Enroll or request more info